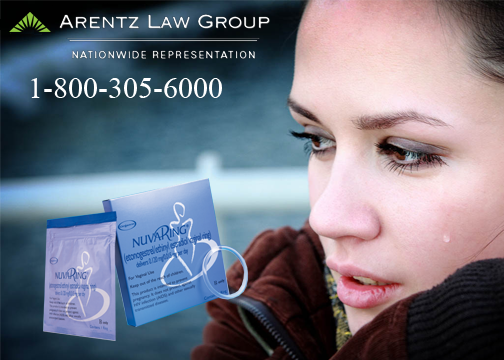 If you or a loved one have been injured while using the contraceptive NuvaRing, you may be eligible for compensation. For a free legal consultation, please fill out the form to the right or contact us directly at 1-800-305-6000.
Right now, the NuvaRing lawyers at Arentz Law Group, P.C. are investigating a number of claims where women have suffered serious injury or death after using this birth control device.  NuvaRing is a relatively new type of birth control that comes in the form of a ring that is inserted into the vagina once a month, and it has been linked to a number of alarming side effects, including heart attacks, strokes, and blood clots. If you have suffered one of these or other negative side effects after using NuvaRing, you may be able to collect significant compensation for your damages in a dangerous drug lawsuit.  The NuvaRing lawyers at our firm are highly experienced in dangerous product and pharmaceutical product liability litigation, and we stand by our clients until they recover the full compensation to which they are entitled.  To learn how we can help you pursue justice, contact us today to schedule a free consultation with an experienced NuvaRing attorney.
About NuvaRing
NuvaRing was approved by the FDA for use in the United States in October 2001.  It is a small ring that is inserted into the vagina once a month, releasing low doses of contraceptive hormones to prevent unwanted pregnancies.  NuvaRing releases two synthetic hormones, ethinyl estradiol (a form of estrogen) and etonogestral (a synthetic progestin), preventing ovulation and minimizing the potential for sperm penetration.  Etonogestral is a "third generation" progestin, and it is often used to help treat and prevent acne, spotting, and weight gain.  Recently, a number of studies have linked desogestrel, from which etonogestral is derived, to a heightened incidence of dangerous blood clots known as venous thromboembolism.  In fact, the link between desogestrel and cardiovascular problems, strokes, and blood clots is so pronounced that in 2007 the consumer advocacy group Public Citizen requested that the FDA ban oral contraceptives (birth control pills) containing desogestral.  This risk is substantially heightened for NuvaRing users, as the hormone is released directly into the blood stream and not gradually digested as it is with the pill.
NuvaRing Side Effects
No form of birth control is without the potential for side effects, but NuvaRing poses a greater risk of complications than more traditional methods of birth control such as the pill.  Since NuvaRing was released in October 2001, the FDA has linked NuvaRing to more than 300 reports of complications or injuries.  Common NuvaRing side effects include:
Headache
Yeast infections
Weight gain
Nausea
In addition to these NuvaRing side effects, a number of women have suffered more severe injuries or complications, such as:
Deep vein thrombosis
Blood clots
Heart arrhythmia
Stroke
Myocardial infarction
Gallbladder disease
Heart attack
The above NuvaRing side effects are very serious and have been known to lead to permanent organ damage, amputation, oxygen deprivation, and even death.
NuvaRing FDA Warnings
The FDA ordered that elevated warnings be placed on NuvaRing labels in 2005, and again in 2008.  These warnings, designed for patients as well as doctors, state that women who use NuvaRing to prevent pregnancy are at a higher risk for blood clots.  The warnings go on to state that this risk grows for women who have a history of blood clots, hypertension, or heart disease.  If you are use NuvaRing or are considering using NuvaRing and have any of these pre-existing conditions, it is vital that you communicate this to your doctor and remain vigilant for signs of NuvaRing side effects that could seriously endanger your health.
NuvaRing Lawsuits
Women who suffer injuries related to the use of NuvaRing are eligible to recover sizeable compensation from the maker of this product, Merck, and hundreds of women have already filed lawsuits against this pharmaceutical giant.  In fact, at the beginning of 2012, there were more than 1,000 NuvaRing lawsuits active in the United States alone.  All NuvaRing lawsuits filed in federal courts were recently consolidated into a multidistrict litigation (MDL) for pretrial proceedings, centralized in the Eastern District of Missouri.  In these suits, plaintiffs make similar claims that Merck and subsidiaries Organon, Shering Plough, and Akzo nobel NV exercised  gross negligence in their failure to provide sufficient information about NuvaRing side effects to patients, drug regulators such as the FDA, and the medical community.  Many NuvaRing lawyers also aver that Merck and Organon did not conduct adequate pre-market testing of NuvaRing.
Contact a NuvaRing Lawyer
In NuvaRing lawsuits, victims are eligible to recover compensation for a number of damages, including lost wages, medical bills, rehabilitation and pharmaceutical costs, and pain and suffering.  If you have suffered as a result of NuvaRing side effects, you may also be owed significant compensation.  The NuvaRing lawyers at Arentz Law Group, P.C. are dedicated to protecting the rights of victims of dangerous medical products, and we have developed a national reputation for treating our clients with dignity and respect while we help them to recover the full compensation to which they are entitled.  To learn more about NuvaRing lawsuits and how we can help you pursue justice, contact a NuvaRing attorney at Arentz Law Group, P.C. today to schedule your free and confidential legal consultation.