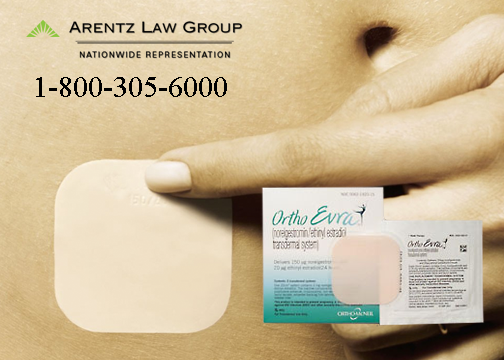 Ortho Evra birth control patch lawyers from Arentz Law Group, P.C. fight for women who suffered Ortho Evra side effects like blood clots, strokes, and heart attacks.  Ortho Evra is a newer method of birth control which delivers contraceptive through a patch worn on the skin.  Research shows that women who use Ortho Evra are at a higher risk for developing serious side effects for which the manufacturer failed to post adequate warning.   If you or a woman you love has suffered from Ortho Evra side effects, you could be eligible to pursue significant compensation in a dangerous drug lawsuit.
Ortho Evra Side Effects
Women who use the Ortho Evra birth control patch receive 60 percent more estrogen than women who take a typical birth control pill, and this could lead to serious and potentially fatal health problems.  Our Ortho Evra lawyers are currently investigating a number of lawsuits where women suffered serious side effects after using this birth control patch.  Ortho Evra side effects could include:
Blood clots
Deep vein thrombosis
Pulmonary embolism
Stroke
Heart attack
Transient ischemic attacks
Severe depression
Jaundice
Fatigue
Trouble sleeping
Breast lumps
Death
Contact an Ortho Evra Lawyer
The maker of Ortho Evra, Ortho-McNeil Pharmaceutical (a division of Johnson & Johnson), continues to market and sell this product despite their knowledge of the serious risks and complications women who use Ortho Evra face in comparison to women who use other forms of birth control.  Because of this company's greed, thousands of women have been subjected to potentially fatal side effects without adequate warning.  If you or a woman in your life suffered a blood clot, stroke, or heart attack when using Ortho Evra, you could be entitled to compensation.  To learn more about Ortho Evra lawsuits, contact a lawyer today to schedule a free consultation.