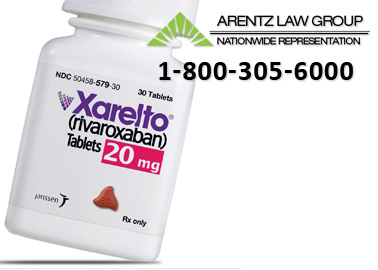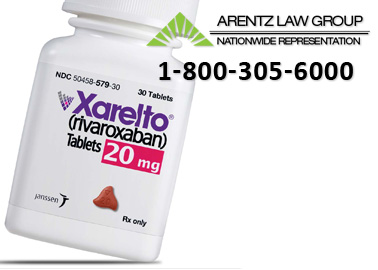 The blood thinner medication Xarelto has been known to cause severe, and uncontrollable, internal bleeding even when taken as prescribed.  For many people this can end up being a life threatening event; one that the drug manufacturers never properly warned the public about.  If you have taken Xarelto, and you have suffered from hemorrhaging, you may be able to file a Xarelto lawsuit.  Contact a dangerous drug attorney from Arentz Law Group P.C. today by calling 1-800-305-6000, or by filling out the contact form on this page, to schedule your free case review.
What is Coumadin?
Coumadin, which is the brand name for the drug warfarin, has been on the market for about half a century.  This reliable blood thinning drug is effective at preventing blood clots, and is often prescribed to patients after they undergo knee or hip replacement surgery.  The drug is, however, difficult to use.
Every person will react differently to the drug.  So there is no easy way to get the dosage right.  In order to prevent an accidental overdose, the patient must return to the doctor often to have blood samples drawn to ensure the adequate amount of the drug is being used.  If for some reason the patient has hemorrhaging, or has an accident that causes rapid blood loss, a sudden influx of vitamin K will reverse the effects of Coumadin.
What is Xarelto?
Xarelto performs the same job as Coumadin, but via a different method.  This once daily pill allows the patient to use the blood thinner at home, and still helps to prevent blood clots.  Many of the patients are prescribed Xarelto because it is much easier to use than Coumadin (although a lot more expensive too).
This pill is easier to control, and it is harder to overdose with it.  As such, the patient does not need to have frequent blood draws to ensure adequate dosing.  Xarelto, however, has a major flaw: there is no known antidote.  If a person starts to hemorrhage, or if they are bleeding, they will often be hospitalized until the drug leaves the system.  Many patients require a transfusion.
Bayer and Janssen Facing Xarelto Lawsuits
Bayer manufactures Xarelto and Janssen Pharmaceuticals (a subsidiary of Johnson & Johnson) markets the drug in the US.  Neither of these companies warned about the risk of hemorrhaging when the FDA approved the drug for sale.  Because of this thousands of people are now suffering, and those who are have begun to fight back by filing a Xarelto lawsuit.
Contact Arentz Law Regarding Your Xarelto Lawsuit
The highly trained dangerous drug attorneys with Arentz Law understand this drug and its deadly side effects.  They also know that the makers and marketers need to be held responsible for the damage they have done to unsuspecting patients.  If you have used Xarelto, and you have suffered from bleeding or hemorrhaging, you may be able to file a Xarelto lawsuit.  Fill out the contact form on this page, or call 1-800-305-6000, to schedule your free initial consultation.
Regardless of which state you live in, Arentz Law can handle your case.