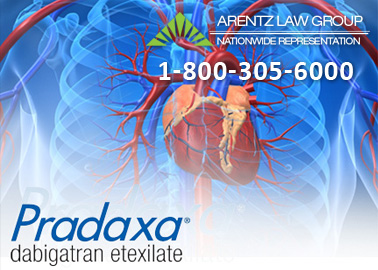 Two popular anticoagulant drugs (also known as blood thinners) have been known to cause some serious, and potentially deadly, side effects.  Xarelto and Pradaxa can lead to uncontrollable internal bleeding.  This bleeding, even with hospitalization and constant doctor care, can prove to be fatal.  There have been a number of lawsuits filed against the companies that make and market these drugs, and if you have suffered from hemorrhaging after taking one of them, you too may be able to collect compensation for medical expenses and other damages.  Schedule your free case review with a highly trained dangerous drug attorney from Arentz Law Group P.C. today by calling 1-800-305-6000, or by filling out the contact form on this page.
Pradaxa Lawsuits
Over the past few years thousands of individuals who have taken Pradaxa have joined together to make their voice heard.  They used this drug to help prevent blood clots and treat the symptoms of their atrial fibrillation, but in the end they were hurt when they suffered from uncontrollable internal bleeding.  There were thousands of lawsuits filed against the drug's maker Boehringer Ingelheim.  Finally, in May 2014, some justice was served with a tentative settlement announced.
The drug's makers failed to warn about the risks of severe bleeding, and they failed to warn about the fact that there is no reversal medication available for the drug (Coumadin, another anticoagulant can easily be reversed with vitamin K).  The settlement is to the tune of about $650 million to those who have been hurt.  While this may seem like a lot, the drug sold over $800 million in the year 2013 alone.
Xarelto Lawsuits
The Xarelto lawsuits are following the same track that Pradaxa suits did.  However, they are in a much earlier stage.  The lawsuits also claim that the victims were never fully warned about the bleeding risk, or the fact that if bleeding did occur there was no reversal agent.
In February 2014 Virginia Stuntebeck filed a Xarelto lawsuit against Bayer, Janssen, and Johnson & Johnson.  The claim was that after taking Xarelto for about 18 months, she suffered from gastrointestinal bleeding.  This risk was even analyzed, but ignored, in two different studies done by Bayer.
Mattie Edgin's heir Della Wise has also filed a Xarelto lawsuit.  Mattie took Xarelto to help with her medical conditions, but her decision to use the drug was based on misleading and false advertising.  The suit claims that she is just one of many victims of Bayer and Janssen Pharmaceuticals.  Mattie passed away due to her injuries.
Contact an Arentz Law Attorney Regarding Your Xarelto Lawsuit
The dangerous drug attorneys with Arentz Law Group know that these drugs are not safe.  They also know that the public was never made aware of the risks before they took the drugs.  If you have used Xarelto or Pradaxa, and you have suffered from severe bleeding, you may be able to file a Xarelto or Pradaxa lawsuit.  Fill out the contact form on this page, or call 1-800-305-6000, to schedule your free initial consultation.
Attorneys with Arentz Law can handle cases from clients in all 50 states.