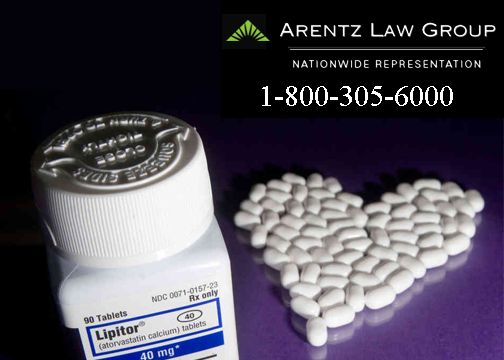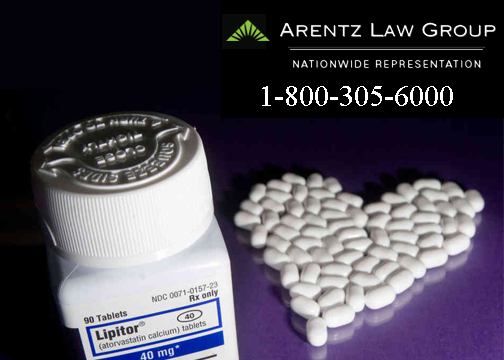 Cholesterol is naturally produced by the body in order to help transport proteins through the blood stream.  To an extent a person can control his or her cholesterol levels by maintaining a healthy diet and lifestyle.  However, there are times when the liver will produce too much cholesterol, and a person must rely on a drug, such as Lipitor, to block its production.  Lipitor is highly successful at blocking cholesterol production.
Lipitor has been on the market, helping to reduce cholesterol levels in users, for nearly 20 years.  However, after it was approved some of the dangerous side effects started showing up.  The attorneys at Arentz Law Group P.C. believe that Pfizer knew about these side effects, however, they chose not to warn patients for fear it would cut into their profits.  If you, or a loved one, have suffered from kidney damage, liver damage, muscle damage, or memory loss while or after taking Lipitor, you may be entitled to compensation.  Contact a lawyer from Arentz Law by filling out the contact form on this page, or by calling 1-800-305-6000 and schedule your free initial consultation.
Possible Lipitor Side Effects
All drugs have side effects.  Sometimes these side effects are as benign as lightheadedness immediately after intake; others are severe enough to lead to death.  Lipitor has a whole array of side effects.  Some of the milder include:
Nausea
Joint Pain
Muscle Pain
Fatigue
If that were the extent, then Lipitor would be called a side effect free drug.  However, the list of mild side effects continues on.  And the list of serious side effects is rather extent as well, including:
It is believed that Pfizer knew about these severe side effects long before the drug found its way onto the market.  However, they did not immediately warn those taking Lipitor that this could happen to them.
FDA Warnings
Lipitor had plenty of time to be tested.  From discovery until approval 11 years lapsed.  While there were some warnings that came with the drug, Pfizer chose to pass over some of the dangerous side effects.  They would rather make billions of dollars than properly warn their customers that the drug that would help ward off heart disease could end up killing them.
It was not until Lipitor had been on the market for 16 years did the FDA revise their warnings regarding this dangerous drug.  Early in 2012, they FDA finally addressed the concerns that Lipitor may cause some serious problems.  Specifically it was noted that jaundice could be a problem, as well as memory loss, confusion, elevated blood sugar (which could lead to diabetes), and others.  This is despite the fact that these problems had been known for nearly a decade.  Several different studies addressed these concerns.
Lipitor Sales Data
Lipitor is the best selling drug of all time.  While there are some drugs that come close to the amount of sales when controlling for certain factors (such as first 10 years on the market), none come close to the all-time sales that this one drug has seen.
Lipitor hit the market in 1996.  It was not the first drug in its class (statins), but it was the most effective.  Because it was so good at reducing cholesterol levels, the drug saw immediate success.  By 2006, the drug had brought in over $73 billion for the manufacturer Pfizer.  And that was just the tip of the sales.
From 2006 until 2011 Lipitor saw those sales continue to boom.  This 5 year stretch reaped sales topping over $62 billion, or approximately $12 billion annually.  This annual amount surpasses the lifetime sales data of most drugs.  However, at the end of 2011 the patent on the drug ran out.  And in the first few months of 2012 a generic version of atorvastatin became available.  While sales of Lipitor were cut dramatically (from $12 billion annually to about $2 billion), the drug is still a huge money maker for Pfizer.
Pfizer is currently the second largest pharmaceutical company in the world.  Their annual sales were close to $60 billion in 2012 (they slipped to just over $50 billion in 2013).  With some very popular drugs on the market, such as Lipitor, Viagra, Lyrica and more, Pfizer continues to be an extremely profitable company.
Lipitor Lawsuit Claims
Multiple individuals who have been harmed by Lipitor side effects have filed personal injury lawsuits in pursuit of compensation for medical bills and other damages. Common claims upon which Lipitor lawsuits have been based include:
Pfizer knew or should have known of the dangers of Lipitor side effects including type-2 diabetes, but continued to market the drug based on claims of its safety

Pfizer should have conducted thorough research into potential risks associated with Lipitor and should have fully informed the medical community and the public of these risks

Pfizer did not conduct adequate post-market research to learn more about Lipitor side effects after patients reported problems

If patients had been properly warned about Lipitor side effects, they may have chosen not to use the medication or they may have more closely monitored their health for signs of known Lipitor side effects
Contact a Lipitor Attorney
In a Lipitor dangerous drug lawsuit, victims of Lipitor side effects can recover just compensation for their physical, emotional, and financial damages.  If you or someone you love has suffered as a result of taking Lipitor, our attorneys have the knowledge, experience, and resources you need to build a strong case.  Contact us today to schedule a free Lipitor lawsuit consultation with a nationally respected attorney.