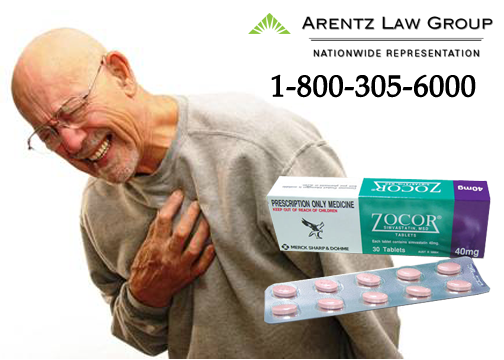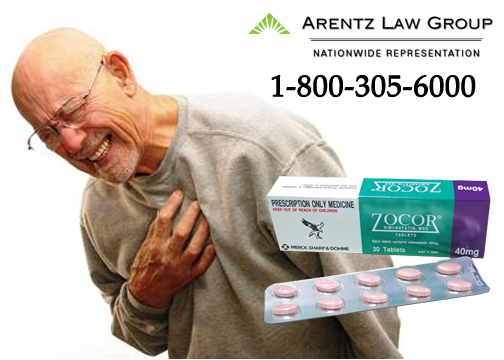 Zocor attorneys at Arentz Law Group, P.C. are currently reviewing potential dangerous drug lawsuits on behalf of patients who have experienced serious Zocor side effects, including severe muscle damage or kidney problems.  Zocor is a widely prescribed medication designed to lower cholesterol that has been known to cause serious and sometimes fatal side effects, especially when taken at the highest available dose of 80 mg.  If you or someone you love suffered as a result of Zocor  muscle damage, rhabdomyolosis, or other Zocor complications you could be entitled to substantial compensation.  For more information about Zocor lawsuit eligibility, contact us to schedule a free consultation with an experienced personal injury lawyer.
What is Zocor?
Zocor (simvastatin) is made by Merck & Co. and was approved by the FDA in December 1991 for the treatment of high cholesterol.  Like other members of the statin class of drugs, Zocor blocks enzymes critical to the production of LDL (low density lipid), sometimes referred to as "bad" cholesterol.  The active ingredient in Zocor, simvastatin, is also found in the drugs Vytorin and Simcor, among others.
Zocor Side Effects
Scientific research has linked Zocor to a number of disturbing side effects, including a heightened risk of developing diabetes, liver injury, and memory loss.  In addition to these side effects, patients who use Zocor to help control their cholesterol are also at a heightened risk of developing myopathy (muscle damage), including the most severe form of myopathy known as rhabdomyolysis which is the result of broken-down muscle tissue leaking into the bloodstream.  As the body attempts to filter out the proteins released by damaged muscles, a patient with rhabdomyolysis may also develop kidney damage or failure, which could be fatal.
Though all statins present a risk of myopathy, the highest rate of muscle injury noted in patients who use statins was noted in patients who were prescribed the highest dose of Zocor available, 80 mg.  In 2011, the FDA recommended that doctors stop prescribing Zocor 80 mg doses to new patients because of the heightened risk of side effects.  The 80 mg dosage is now only used for patients who have taken 80 mg daily doses of Zocor for more than a year without developing symptoms of myopathy, rhabdomyelosis, or other Zocor side effects.
Contact a Zocor Lawyer
Though the link between 80 mg  Zocor and myopathy or rhabdomyelosis has long been established, Merck continued to make and market the drug at this high dose without sufficient warnings, putting their desire for profit above the health of the consumers who use their medication.  If you or someone you love has suffered muscle damage, kidney damage or failure, or other Zocor side effects, you may be able to pursue compensation for your damages in a Zocor lawsuit.  To learn more about your potential right to compensation, contact a Zocor lawyer today.