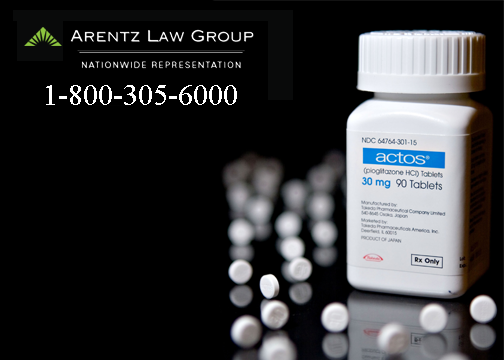 If you or a loved one have been diagnosed with Actos bladder cancer while taking the diabetes drug Actos, you may be eligible for compensation. For a free legal consultation, please fill out the form to the right or contact us directly at 1-800-305-6000.
Each of the Actos bladder cancer lawyers at Arentz Law Group, P.C. is dedicated to helping victims of dangerous drugs recover just compensation.  Actos (pioglitazone) is used to treat Type 2 diabetes by reducing insulin resistance.  Approved by the FDA in 1999, Actos has become a popular alternative to Avandia, which has been linked to stroke, heart disease, and other serious health threats.  Unfortunately, Actos has now been linked to a higher incidence of bladder cancer.  If you or someone you love has been diagnosed with bladder cancer after taking the diabetes drug Actos, lawyers at Arentz Law Group, P.C. can help you pursue substantial compensation for your damages in a pharmaceutical product liability lawsuit.  To learn about how we can protect your legal rights in a free case evaluation, contact us today.
Actos and Bladder Cancer
The FDA initiated an investigation into reports of a heightened incidence of bladder cancer in Actos users in September 2010.  The investigation relied heavily on data cited from an ongoing study by the maker of Actos, Takeda Pharmaceuticals, that found that the risk of developing bladder cancer increases the longer a person uses this drug.  Because the Takeda study is still in progress, the FDA has not yet released a conclusion to their investigation.  However, in June 2010, the FDA mandated that the Actos warning label be changed to reflect an increased risk of bladder cancer linked to this drug.  The label goes on to caution that the risk of bladder cancer goes up if a person uses Actos for more than one year.  Drugs similar to Actos, such as Actoplus, ActoplusMet RX, and Duetact, also carry this heightened warning.
A study published by Italian researchers in 2011 also revealed that a disproportionately high number of Actos users have bladder cancer.  This research relied heavily on FDA Adverse Event Reporting System records.  Based on this and a number of other studies, France and Germany issued Actos recalls in June 2011.  Officials in the United States and Canada continue to investigate the strong link between Actos and bladder cancer.
Additional Actos Side Effects
The FDA ordered a black box warning label to be placed on Actos in 2007, based on evidence that Actos users are at a higher risk for developing congestive heart failure.  In addition to bladder cancer and heart failure, Actos has also been linked to an increased risk of liver failure and serious bone fractures.
Contact an Actos Bladder Cancer Lawyer
If you have been diagnosed with bladder cancer after taking Actos, especially if you used Actos for more than one year, you may be eligible to collect significant compensation in a dangerous drug lawsuit against Takeda Pharmaceuticals.  If you are thinking of pursuing an Actos lawsuit, it is important for you to act quickly before a statute of limitations expires.  Actos bladder cancer lawyers at Arentz Law Group, P.C. are highly experienced in pharmaceutical product liability litigation, and we have helped many victims of dangerous drugs recover the full compensation to which they are entitled for damages such as medical bills, pharmaceutical costs, loss of lifestyle, and pain and suffering.  To learn more about your potential right to compensation, contact an Actos bladder cancer attorney today to schedule a free legal consultation.