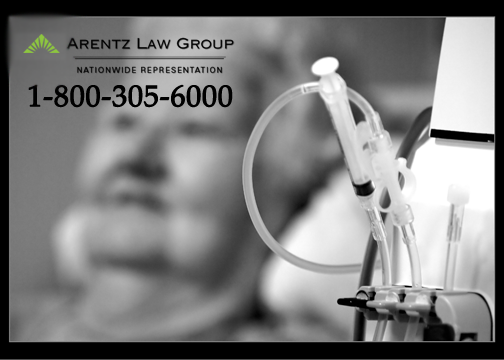 If you or a loved one have been injured in a dialysis treatment, you might be entitled for compensation. For a free of charge legal consultation, please fill out our form or contact us directly at 1-800-305-6000.
The GranuFlo and NaturaLyte dialysis heart attack attorneys at Arentz Law Team, P.C. are presently working with victims who have suffered serious injury or the loss of a loved one after dialysis treatment with products made by Fresenius Medical Care (FMC). Based in Germany, FMC is the maker of GranuFlo and NaturaLyte, dialysis medicines that are used in the bulk of renal (kidney) treatment centers in the United States. We have evidence that FMC willfully withheld information about the compromised security of their items, risking the lives of hundreds if not thousands of patients. If you or somebody you know and love suffered a heart attack after dialysis treatment with, FMC products might have been to blame and you could be entitled to substantial settlement for your loss. To discover more about your rights from one of our GranuFlo dialysis heart attack attorneys, contact us today to schedule a confidential and free of cost evaluation of your claim.
What is GranuFlo?
Dialysis treatment is utilized to help filter a person's blood when she or he has hindered renal (kidney) function. Throughout the dialysis procedure, the patient's blood is pumped from the body to a device where it is chemically treated to remove pollutants. Rather frequently, the chemical utilized is GranuFlo or yet another product made by Fresenuis Treatment, NaturaLyte. When the client's blood has been cleansed, it is reintroduced into the body.
To date, even more than 400,000 Americans frequently undergo dialysis treatment at more than 5,700 dialysis centers around the nation. FMC the owner of more than two-thirds of the dialysis centers in the United States alone, but it additionally offers these centers and hundreds of extra centers (the large majority of them) with GranuFlo and other products.
GranuFlo Problems and Recall
The leading provider of dialysis products in the United States, Fresenius Medical Care released an interior memo in 2010 revealing the results of an FMC study that concluded that the high levels of bicarbonate in GranuFlo and NaturaLyte increase the danger of a cardiovascular disease by 6 times. That same year, FMC records show that 941 clients had cardiovascular disease after obtaining dialysis treatment with their products.
In addition to considerably raising the possibility of a patient heart attack, NaturaLyte and GranuFlo has additionally been known to cause:
Hypercapnia (elevated carbon dioxide)

Heart arrhythmia

Hypokalemia (low potassium)

Low blood pressure

Hypoxemia: (low blood oxygen)

Death

Stroke
In November 2011, the internal FMC memo was leaked to the FDA, stimulating a swift and in depth investigation into the safety of NaturaLyte and GranuFlo. As an outcome of the FDA's findings, the company issued a Class 1 recall for GranuFlo and for NaturaLyte in March 2012. A Class 1 recall, which is the highest level of recall, is issued for products which may present a strong danger of serious injury or death.
What Brought about the GranuFlo Recall?
The maker of GranuFlo, Fresenius Medical Care (FMC) issued an internal memo to all FMC dialysis clinics and dialysis providers in November 2011 to warn them that elevated bicarbonate levels in this product could lead to catastrophic results, including heart attack, stroke, or death. FMC only issued this warning internally, which meant that thousands of patients were put at serious risk of injury or death because their doctors were not made aware of potentially fatal GranuFlo side effects. This information was only made public when an unnamed source leaked this internal memo to the FDA in March 2012.
Upon receiving the FMC memo, the FDA launched an in-depth investigation into GranuFlo side effects. This led to the issue of a Class I recall for GranuFlo and a similar FMC product called NaturaLyte. A Class I recall is the highest level of recall issued by the FDA and is only used when "there is a reasonable probability that the use of or exposure to a violative product will cause serious adverse health consequences or death."
NaturaLyte Heart Attack/Cardiac Arrest
NaturaLyte is a liquid dialysate, a chemical used during dialysis treatment to promote the proper balance of alkalinity and acidity in the blood of a patient undergoing dialysis treatment.  The main ingredient in NaturaLyte, sodium acetate, converts to bicarbonate during dialysis treatment.  Bicarbonate is a base and it offsets high acid levels in a patient's blood.  However, too much bicarbonate can make the blood too basic.  This causes a condition called metabolic alkalosis, which can lead to a NaturaLyte heart attack, stroke, or cardiac arrest during or shortly after dialysis treatment.
GranuFlo and NaturaLyte Dialysis Lawsuits
International laws dictate that pharmaceutical makers must not only provide a safe product, but they must also provide adequate warning regarding any risks associated with their products. Fresenius Medical Care did make its own doctors and dialysis center employees aware of the serious risks associated with GranuFlo and NaturaLyte in an internal memo. However, that memo was only distributed to FMC doctors and kidney treatment centers, and not to other dialysis providers, the public, or the FDA. Thus, FMC put the lives and safety of thousands of patients at risk, exercising gross negligence in their failure to provide vital safety information to all doctors that may administer their product.
When the Fresenius Medical Care memo was leaked to the FDA, the regulatory agency ordered FMC to issue a public safety notice about GranuFlo and NaturaLyte. While FMC did release such a notice, parties who have read the initial leaked memo claim that the new notice fails to express the level of detail, resources, or urgency that came across in the original memo. As a result of this discrepancy, a number of experts feel that FMC put profit over patient safety in their attempt to diminish the severity of the risks associated with GranuFlo and NaturaLyte.
Fresenius Medical Care was negligent in their duty to consumers and dialysis patients who receive their products. As a result of this negligence, people who have suffered injury or the loss of a loved one after dialysis treatment with GranuFlo or NaturaLyte are entitled to collect substantial compensation from FMC in a dangerous drug lawsuit.
Dialysis Drug Heart Attacks/Cardiac Arrest
GranuFlo, a dry acid dialysate, and NaturaLyte, its liquid counterpart, are drugs used during dialysis treatment to help kidney patients achieve a proper balance of acidity to alkalinity in their blood.  These dialysis drugs contain sodium acetate, a chemical that converts to bicarbonate during and shortly after treatment.  Bicarbonate is a base that can restore alkalinity to the blood, but too much bicarbonate can lead to metabolic alkalosis, a potentially fatal condition that can cause dialysis drug heart attacks, cardiac arrest, or strokes.
Our dialysis drug heart attack lawyers have firm evidence that the company that makes GranuFlo and NaturaLyte, Fresenius Medical Care, was aware that these products convert to bicarbonate at a faster rate than similar dialysates, but that they willfully withheld this information from thousands of dialysis providers in an effort to increase their profits.  In 2010, data from a study conducted by Fresenius showed that patients who are treated with GranuFlo or NaturaLyte are up to 6 times more likely to suffer a dialysis drug heart attack.  Internal data from Fresenius shows that, in the year 2010 alone, 941 patients had heart attacks at Fresenius dialysis clinics.  Unfortunately, though Fresenius clearly knew that their products were associated with a very high rate of dialysis drug heart attacks, they decided not to inform thousands of dialysis providers in the United States about this heightened risk to patients.
Claims for GranuFlo Lawsuits
Dangerous drug lawsuits are often complex, in part because it can be very difficult to prove negligence in such cases. However, this may not be a problem for many plaintiffs in GranuFlo lawsuits, as our attorneys have clear evidence that Fresenius was aware of the dangers associated with GranuFlo and that they failed in their duty to warn the medical community of these dangers.
An internal FMC memo which was written in 2010 warns doctors that patients face a 6 times higher risk of suffering a heart attack when GranuFlo is used during dialysis. However, FMC only issued this memo internally, to doctors and clinicians who worked at dialysis centers owned and operated by FMC. This means that thousands of doctors were not made aware that GranuFlo posed a higher risk of serious injury or patient death than comparable dialysates. In fact, this documentation of the potentially fatal nature of GranuFlo side effects did not become available to the public or to the United States government until this memo was leaked to the FDA in 2011, prompting a thorough investigation that eventually led to a GranuFlo recall in 2012. Based on the fact that this memo was not issued to the medical community at large, it is fairly irrefutable that Fresenius displayed gross negligence in their duty to provide a safe product and to warn of all dangers associated with said product.
Fresenius Lawsuit Claims
As the maker of a medical product, Fresenius has a legal and moral responsibility to ensure that its products are safe and to clearly warn of any dangers associated with their products. In an internal memo released to FMC doctors and dialysis providers in 2010, the company warns that GranuFlo poses a risk of heart attacks and cardiac deaths that is significantly higher than other dialysates, cautioning doctors to exercise extreme care with dosing of the chemical. However, this warning was not released to the medical community at large, including the roughly 2,000 dialysis centers in the United States not run by FMC. This information only became public knowledge when the internal memo was leaked to the FDA in 2011, prompting an emergency investigation into GranuFlo side effects that led to a recall of GranuFlo and NaturaLyte in March, 2012.
This memo, and the list of recipients it was distributed to, is clear evidence that Fresenius was aware of the potentially lethal side effects of its products, but that it willfully withheld this information and put thousands of lives at risk. Based on this claim, a number of individuals who have suffered hardship as a result of dialysis treatment with GranuFlo have opted to file pharmaceutical product liability lawsuits against Fresenius Medical Care.
Compensation from Dialysis Lawsuits
If you have suffered a heart attack, stroke, or other injury, or if you have lost a loved one as a result of dialysis treatment where GranuFlo was used, you may be entitled to compensation for your physical, emotional, and financial damages in a Fresenius Medical Care lawsuit. These damages may include, but are not limited to:
Pain and suffering

Lost wages

Loss of a spouse

Medical bills

Pharmaceutical costs

End-of-life costs