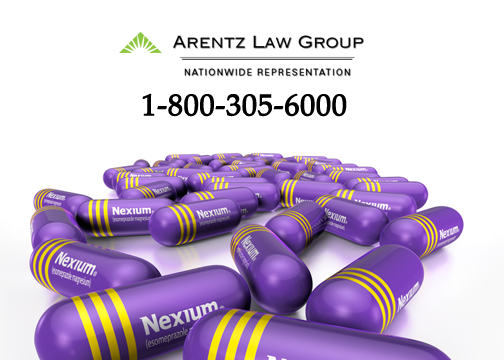 Nexium bone fracture lawyers from Arentz Law Group, P.C. are currently accepting cases in all 50 states.  Nexium is a popular drug used to treat heartburn and other conditions brought on by high levels of stomach acid.  Unfortunately, Nexium has been linked to a higher risk of bone fractures, especially in patients who take the drug regularly and for an extended period of time.  If you suffered a bone fracture that you believe may be linked to your use of Nexium, you could be entitled to substantial compensation.  To learn more about Nexium lawsuits, contact us to schedule a free consultation with an experienced dangerous drug lawyer.
Nexium Side Effects
Nexium belongs to the proton-pump inhibitor (PPI) family of medications and is used to treat common heartburn and other conditions involving excessive stomach acid like gastroesophageal reflux disease by decreasing the amount of acid made by the stomach.  Unfortunately, insufficient acid in the stomach can inhibit the body's ability to absorb calcium, which can weaken a patient's bones.  Because of this, Nexium and other PPIs have been associated with a high rate of bone fractures.
Based on results from numerous respected studies that found a strong correlation between Nexium and other PPIs and bone fractures, the FDA issued the following warning to doctors and consumers in May 2010:
"Be aware that an increased risk of fractures of the hip, wrist, and spine has been reported in some studies of patients using proton pump inhibitors. The greatest increased risk for these fractures was seen in patients who receive high doses of these medications or use them longer (a year or more).."
In addition to hip, wrist, and spine fractures, Nexium and other PPIs have been linked to the following side effects:
Muscle spasms
Irregular heartbeat
Seizures
Dark urine
Chest pain
Tremors
Headache
Diarrhea
Nausea
Stomach pain
Drowsiness
Most recently, the FDA announced that PPIs taken for prolonged periods of time may lead to low serum magnesium levels in the blood, which can cause muscle spasm, convulsions, and irregular heartbeat.
Contact a Nexium Lawyer
A number of patients who suffered painful bone fractures as a result of taking Nexium have opted to file dangerous drug lawsuits in pursuit of compensation from AstraZeneca Pharmaceuticals.  If you took Nexium or another PPI regularly and suffered a bone fracture or other Nexium side effects, our lawyers have the knowledge and experience you need to build a strong Nexium lawsuit claim.  Learn more about your rights: contact us today to speak with a Nexium lawyer in a free legal consultation.