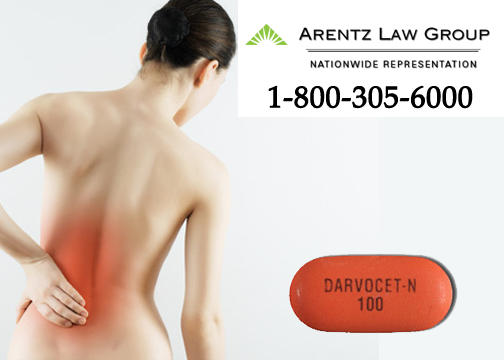 Darvocet lawsuit attorneys from Arentz Law Group, P.C. are currently preparing to help a number of victims of Darvocet side effects from across the United States pursue just compensation for damages incurred after using this dangerous drug.  Once one of the most prescribed drugs in the United States, Darvocet has been linked to serious and potentially fatal side effects, eventually prompting a Darvocet recall in November 2010.  If you or someone you love has suffered or died as a result of Darvocet or Darvon side effects, you could be entitled to substantial compensation.  Learn more about your rights: contact us to schedule a free legal consultation with an experienced Darvocet lawyer.
Darvocet Side Effects
Darvocet is a combination of Darvon (propoxyphene) and Tylenol (acetaminophen) which is prescribed to treat mild to moderate pain and was frequently used to ease a patient's pain before, during, and after surgery.  More than 10,000 deaths have been attributed to Darvocet and Darvon.  Common and potentially fatal Darvocet side effects include:
Heart arrhythmia
Heart attack
Suicide
Overdose
Death
According to our Darvocet lawyers, the company that made and marketed this drug, Xanodyne Pharmaceuticals, failed to adequately research the safety of this drug and they also failed to post adequate warnings of potential Darvocet side effects.  As a result of this gross negligence, victims of Darvocet side effects could be eligible to recover substantial financial compensation for their damages.
Darvocet Recall
The first petition to the FDA for a propoxyphene recall occurred in 1978, when research showed that the drug could cause the buildup of potentially harmful toxins in the heart.  In 2005, evidence pointing to an increased risk of overdose and suicide in Darvocet users brought about a Darvocet recall in the U.K.  The consumer advocacy group Public Citizen petitioned the FDA for a Darvocet recall in 2006, then filed a Darvocet lawsuit against the FDA in 2008 based on the regulatory agency's failure to act on their earlier petition.
In response to mounting evidence that Darvocet side effects may be fatal, the FDA launched an in-depth investigation into the safety of this drug in 2009.  Based on the results of this research in addition to new clinical data that showed Darvocet users at a higher risk of potentially fatal heart rhythm abnormalities, the FDA finally requested that Xanodyne Pharmaceuticals recall Darvocet and the recall was issued on November 19, 2010.
In response to the recall, the FDA issued the following statement:
"The Food and Drug Administration is pleased by Xanodyne's choice to voluntarily recall its drugs from the US market.  These new heart data significantly alter propoxyphene's risk-benefit profile. The drug's effectiveness in reducing pain is no longer enough to outweigh the drug's serious potential heart risks."
Contact a Darvocet Lawyer
Xanodyne Pharmaceuticals failed in their duty to consumers by neglecting to conduct sufficient research in to Darvocet side effects and by failing to post adequate warnings about these side effects.  If you or a loved one has suffered as a result of Darvocet or Darvon side effects, you could be entitled to compensation for your physical, financial, and emotional damages.  Contact us today to schedule a free Darvocet lawsuit consultation with an experienced attorney.