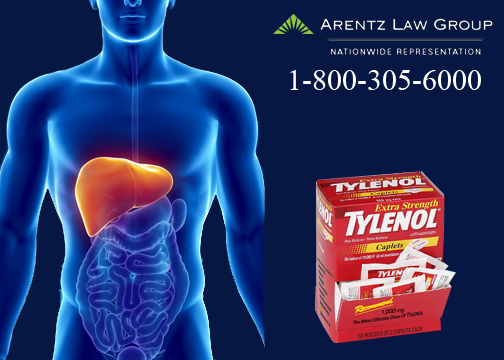 Tylenol (acetaminophen) liver damage attorneys at Arentz Law Group, P.C. have years of experience in dangerous drugs litigation, and we can build the strong cases our clients need to get the compensation they deserve.  Tylenol has been on the market since the 1950s, and billions of bottles of this pain reliever have been sold in the United States.  Sadly, many Americans are not aware of the association between Tylenol and acute liver damage or even liver failure.  If you or a loved one has suffered liver damage after using Tylenol, you may be entitled to compensation.  Attorneys at our firm are ready to help you learn more about your legal rights in a free consultation.
Tylenol Liver Damage
Acetaminophen is the main ingredient in more than 200 over-the-counter pain relievers and cold remedies, including Tylenol, and it is also the leading cause of liver failure in the United States.  According to estimates from the FDA, more than 400 Americans die from Tylenol liver failure each year.  In addition to these deaths, FDA data shows that more than 56,000 people make emergency room visits and more than 26,000 are hospitalized as a result of acetaminophen liver damage each year in the United States.
In research conducted by the U.S. Acute Liver Failure Group, experts found that one-half of all liver failures in the United States can be associated with acetaminophen.  Researchers from the American Medical Association have found that Tylenol doses on the bottle label may be too high, and could cause heightened enzyme levels that could lead to liver damage.  These findings were confirmed later in the journal Hepatology, where experts found that the recommended dose of 7.5 grams of Tylenol per day may cause damage to the liver.  People who already have liver damage and people who consume a high volume of alcohol are at even more of a risk for Tylenol liver problems, including liver failure.
Liver Failure Symptoms
If you experience any of the following symptoms of liver failure after taking Tylenol or acetaminophen (even at the recommended dose), you should contact your doctor:
Upper abdominal pain
Bleeding
Sweating
Jaundice
Fatigue
Convulsions
Vomiting
Nausea
Diarrhea
Hives or rash
Contact a Tylenol Liver Damage Attorney
Many Americans have unknowingly taken more Tylenol or acetaminophen than is safe and have suffered liver damage or liver failure as a result.  The Tylenol lawsuit attorneys at our firm firmly believe that consumers have not been adequately warned about the very real risk of Tylenol liver damage, and we are prepared to fight for victims until justice is served.  If you have suffered liver damage after using Tylenol or another form of acetaminophen, contact us today to schedule a free legal consultation.