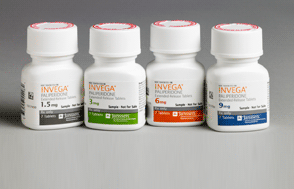 What is Invega?
You may remember the case of Aaron Banks, the young man who suffered from growing breasts after taking the antipsychotic drug Risperdal.  The drug Invega is not much different than Risperdal.
Invega found FDA approval in 2006, right around the time that the patent was running out on Risperdal.  The drug is a minor variant of its parent.  Invega is considered to be a metabolite of Risperdal.  What this means is that as Risperdal breaks down in the body, one of the active ingredients that is created by the body is Invega.  By separating this from the parent drug, Johnson & Johnson created a new drug that has a very similar effect on the body.
Invega is Approved to Treat Schizophrenia
When Invega initially received FDA approval in 2006, the drug was approved to treat adults with schizophrenia.  Over the next 5 years this was the only use that the drug was to be used for.  In 2011, it was also approved to treat schizophrenia in adolescents.
Nearly all drugs out there have treatments for which they are approved.  And nearly all drugs are prescribed to people to help with conditions that have not been approved.  This is called "off-label" use.  Doctors have found that when a child takes Invega, it can help calm their thinking processes if they have a mental illness like ADD/ADHD or bipolar disorder.  This is despite the fact that the drug has not been approved for those conditions.
The doctors are not doing anything wrong by prescribing the drug for a condition that is off-label.  However, the drug companies cannot market their product for those conditions.  So if there is any advertising that says Invega can help treat children with ADD, that is when the companies will get into trouble.
Side Effects of Invega
The problem, however, is that the side effects are similar to Risperdal.  Studies show that taking Invega can cause male teens to suffer from breast growth the same as they would while taking Risperdal.  The process happens in the same way: prolactin levels increase and breasts begin to grow.  Just as the risk of growing breasts was never fully disclosed for Risperdal, it was never fully disclosed for Invega either.
The biggest demographic that suffers from gynecomastia is composed of young men.  At this period in their life their bodies are undergoing rapid hormonal changes, and the sudden increase of prolactin causes them to grow breasts (that must be removed via surgery).  However, young men are not the only ones that suffer.  The older generation is also undergoing hormonal changes (albeit not as extreme).  Older men have also reported suffering from gynecomastia after taking Invega or Risperdal.
Janssen Failed to Warn of Side Effects
Even after they were hit with a $2.2 billion fine, the company still did not include warnings about how Invega can lead to breast growth in males.  This has prompted a series of other Invega lawsuits.
Invega Under Fire
When drugs are approved by the FDA, they are generally only approved for the treatment of one illness.  For instance, Risperdal was only approved to treat schizophrenia in adults for the first decade it was on the market.  This approval means that the drug manufacturer can only market the drug as a treatment for which it was approved.  When they try to market for something else, such as the treatment of bipolar disorder, or the treatment of ADD/ADHD in youth, they can be hit with criminal and civil charges.
Risperdal and Invega work remarkably well in children (they carry the risk of severe side effects though).  They also work quite well to help treat dementia, bipolar, and irritability in autistic children.  However, before the drugs were approved for anything other than use as a treatment for schizophrenia, J&J marketed them for off label uses.
Since the pharmaceutical industry is highly regulated, it was only a matter of time before they were caught.  These drug companies have a responsibility to make accurate statements about the drugs that they are marketing.  When they step outside these boundaries, the government takes those missteps very seriously: to the tune of $2.2 billion.  This amount is in various fines, penalties, and restitutions.  You can read all about the settlement on the Department of Justice page.
What Can an Invega Lawsuit Do?
A young man with a mental illness has already been stigmatized by society.  Add on the fact that he is trying to treat his mental illness, and the drug causes him to become a young man with breasts, and the stigmatization, taunting, bullying, and shaming become even worse.
The idea behind an Invega lawsuit is not to get back at the company.  It is not to stick it to them.  But it is to compensate those who have been hurt, and help pay their medical bills.  The only way to reverse the effects of gynecomastia is through breast reduction surgery.  This surgery will cost the patient money, and in the end he will have visible scars.  Every time he sees those scars it will bring back the memory of the shame he went through.  It is possible that he will need lifelong therapy.
A secondary effect of an Invega lawsuit is to raise awareness.  There are a lot of young men out there that have suffered from this side effect, but they don't know it was caused by the drug that they took to help their thought processes.  Filing an Invega lawsuit can help them realize that they are not to blame, that the damage caused to their bodies and psyches is not because of something that they did.
Read more about antipsychotic medications with these helpful links: