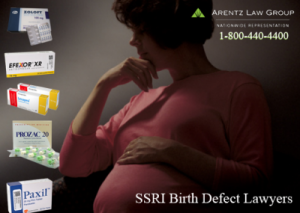 The SSRI birth defects lawyers at Arentz Law Group, P.C. are dedicated to employing the full extent of their experience, knowledge, and considerable resources to defending the rights of families whose children suffer these congenital malformations. SSRI (selective serotonin reuptake inhibitor) antidepressants including Zoloft, Topamax, Paxil, Prozac, and Celexa, have been linked to a number of serious and potentially fatal heart birth defects when taken by pregnant women. According to recent studies, children whose mothers use SSRIs during pregnancy may be up to 60% more likely to be born with a birth defect. According to our dangerous drug lawyers, the families of children born with defects tied to exposure to antidepressants in the womb may be owed substantial financial compensation for their damages.
How Depression Works
It is estimated that one out of ten Americans is treated for depression.  There are many more that are undiagnosed and go without treatment.  For those who do not suffer from depression there are many myths surrounding this mental illness that need to be busted.  For instance, depression is not sadness.  Being sad is a state of mind caused by external factors, such as the sorrow felt after losing a basketball game.  Depression is an ongoing feeling of listlessness that is caused by abnormal chemical composition in the brain.
The brain uses 3 different neurotransmitters in order to function.  Serotonin, norepinephrine, and dopamine all help play a crucial role in a person's ability to think clearly, rationally, and stay emotionally stable.  When one, or all, of these chemicals are out of balance, various forms of mental illness are manifest.
For those suffering from depression, these neurotransmitters are scarce.  Recent studies have shown that this is due to an enzyme called monoamine oxidase A (MAO-A) being found in abundance.  This enzyme helps to break down the neurotransmitters leaving the individual feeling "off."  That feeling leads to depression.
In order to combat the depression the patient has several options.  It is shown that regular exercise helps to release more dopamine into the body.  And sunlight (or bright light in general) helps to boost the serotonin levels in the brain.  However, sometimes natural remedies are not enough; so many people turn to selective serotonin reuptake inhibitors (SSRI's), a form of antidepressant medication that helps to increase serotonin levels.  The most popular SSRI drug on the market: Zoloft.  The result is that the patient feels better, yet at the same time they are subjecting themselves, and their unborn babies, to unnecessary risks.
Commonly Prescribed SSRIs
Heart Defects linked to SSRI Antidepressants
SSRI antidepressants such as Zoloft and Lexapro have been linked to a high rate of cardiac birth defects, including:
Other Birth Defects Cause by the Use of SSRIs
Contact a Birth Defect Lawyer
If you have a child who was born with a congenital birth defect that you think may be linked to use of SSRI antidepressants during pregnancy, the lawyers at Arentz Law Group, P.C. may be able to help you recover compensation to help with medical bills, therapeutic and pharmaceutical costs, and even lost wages.  You may also be compensated for your pain and suffering.  We know that the costs of caring for a child with a birth defect can be intimidating, and funds recovered from an SSRI birth defect lawsuit can help secure the best care for your child now and into the future.  To learn more about antidepressant birth defects and your rights, contact our SSRI attorneys today to schedule a free meeting with a member of our legal team.