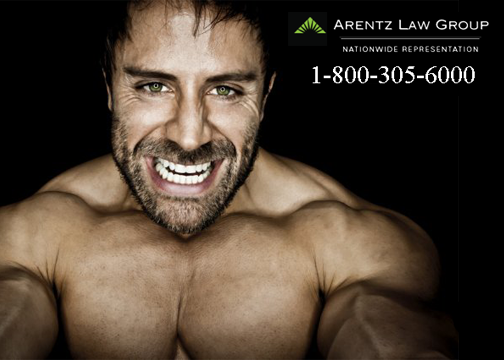 Have you, or someone you love, used a low T supplement and subsequently suffered from one of these serious side effects?  If so, you may be entitled to compensation to cover medical expenses and other damages.  Contact a testosterone lawyer from Arentz Law Group P.C. today by calling 1-800-305-6000 or by filling out the contact form on this page.  Highly trained attorneys are ready to do your free initial consultation to determine if you have a testosterone lawsuit.
About Testosterone
Millions of men suffer from low testosterone. In fact, declining rates of testosterone is simply a fact of aging. However, as the levels decrease, males find themselves not feeling like they used to. They are fatigued easier, have loss of muscle mass, or a whole host of other symptoms. Basically, they do not feel as youthful and energetic as they once did.
In order to combat this, they talk to their doctors and are prescribed a testosterone supplement, often referred to as testosterone therapy. These drugs can be taken orally, injected, or applied topically, and the result is often the same. The caveat is that these drugs don't just fix the problem, but like all drugs they have a whole host of side effects. Some are mild like skin irritation and headaches, but others are much more serious. There are numerous studies that have shown use of testosterone supplements can lead to heart attack, stroke, blood clots, and in the worst cases, death.
Testosterone History
Forms of Testosterone Treatment
The industry for low testosterone treatment is growing quickly. And these drug manufacturers are aware of that. They are capitalizing on men's needs to look and feel younger (although there are many patients who genuinely do have low testosterone levels). This growth, and potential for increasing revenues, often will lead to skimming over some of the dangerous side effects of the testosterone supplement.
Recently new advances have been made in how testosterone supplements are administered to the individual. These advancements, along with aggressive marketing campaigns that include print and TV ads, have caused the popularity of testosterone therapy to increase dramatically.
There are several forms of testosterone treatment:
Testosterone Supplement Side Effects
FDA Announcement
On June 20, 2014 the FDA announced that all testosterone supplements (Low T drugs) must carry a general warning about the risks of blood clots in the veins. These blood clots, sometimes called deep vein thrombosis, are deadly if not caught and treated in a timely manner.
There are two types of blood clots that can occur. One is related to polycythemia, which is an increase in the number of red blood cells. This type of blood clot can occur anywhere in the body, and is caused when the body starts to repair damages to the walls in the arteries or veins. This natural clotting is enhanced by the over abundance of the red blood cells. The FDA announced that this risk is already included in the warning on testosterone products.
The other type of blood clots is general venous blood clots. These clots occur in the veins, often those found in the legs. Many people became aware of these types of clots several decades ago when long airline flights were becoming more popular. Sitting for long periods of time caused the blood found in the leg veins to clot, when dislodged these clots can travel straight to the lungs causing pulmonary embolism. In other words the blood clots block the efficient flow of blood through the lungs.
The FDA made sure to include that although these new warnings are significant, they are not related to their investigation of testosterone products causing heart attack, stroke, or death in patients. The administration is still investigating these risks and problems that are also related to blood clots.
Studies Regarding Low T Therapy
Low T drugs, also known as testosterone supplements, are not new to the market.  In fact, some have been around for several decades.  What is new, however, is the way these drugs are administered.  While older versions of the drug are cheaper, they require bi-weekly or monthly visits to the doctor to have a testosterone pellet implanted.  Newer versions of the drug are simple patches or underarm gels that are administered each morning or evening.  This ease of application, accompanied by a big marketing push, has caused testosterone therapy drugs to surge in popularity.
Along with that surge in popularity there are a lot more people finding themselves the victim of some severe side effects.  Many of these side effects were never fully disclosed, and the public was never fully warned about the severity of using Low T drugs.
What to do if you Take Testosterone Supplements
If you currently use a testosterone boosting drug, and you have not suffered from a severe side effect, talk to your doctor about the risks of the drug.  Discontinuing its use will reduce the chances of having one of these adverse medical conditions.  If you currently use these drugs, or have used them in the past, and you have suffered from a heart attack, stroke, or blood clot, the testosterone attorneys with Arentz Law want to speak with you to determine if you can file a testosterone lawsuit.
Personal Injury Lawyers
The personal injury lawyers at Arentz Law have years of experience representing the public and finding justice for those who have been injured due to negligence. Robert Arentz, one of the founding members of Arentz Law Group P.C., has been practicing law for over 30 years and understands what it takes to build a case to help you receive the compensation that you deserve.
The Arentz Law Group is able to handle your case, regardless of your geographic location in the United States. If you are looking for a personal injury lawyer with whom to consult regarding your issues using testosterone therapy, contact us immediately.