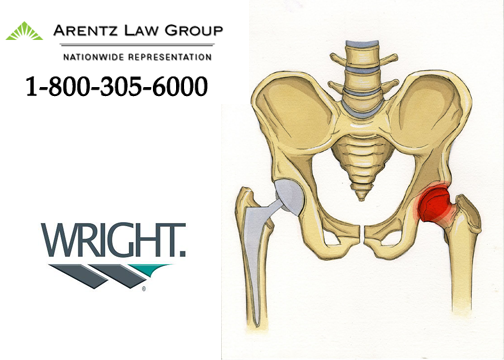 Wright hip attorneys at Arentz Law Group, P.C. are currently investigating claims where innocent patients suffered pain, immobility, or even hip implant revision surgery after being fitted with a potentially defective Wright Conserve Hip.  Significant scientific research and a number of adverse event reports have brought to light the fact that the metal-on-metal construction of these artificial hip joints can lead to serious injury and early hip implant failure.  If you have suffered severe pain, injury, or hip implant revision surgery after being fitted with a defective Wright hip, lawyers at Arentz Law Group, P.C. can help you pursue just compensation for your damages.  Contact us today to schedule a free legal consultation with an experienced defective products attorney.
Problems with Wright Hips
The problems with Wright hips are a result of the metal-on-metal construction of the artificial hip socket and are common to all artificial hips built in this manner.  In fact, metal-on-metal hip systems, including the Wright Conserve hip, the DePuy Pinnacle, and the Stryker Rejuvenate, have been associated with such a high rate of injury and failure that the FDA has devoted an entire section of their website to educating consumers about the dangers posed by these products.  When the metal pieces of the artificial hip joint rub against each other, the friction they create can cause tiny shards of metal to be released into the blood stream, which can lead to pain, infection, injury, and even metal toxicity.
The Wright Conserve hip system was compared to other hip implants in the Eighth Annual Report issued by the National Joint Registry for England and Wales in September 2011.  Shockingly, the researchers identified a 7.99% rate of failure within five years of implantation with a Wright hip.  Other hip systems had an average five year failure rate of 4.36%.  The only hip system that had a higher rate of early failure than the Wright system was the DePuy Pinnacle, which was recalled because it harmed so many patients.
Wright Hip Injuries
The metal-on-metal construction of the Wright hip has led to a number of serious injuries and complications, including but not limited to:
Broken bones
Swelling
Pain
Hip joint dislocation
Difficulty walking
Changes in gait
Infection
Numbness
Difficulty putting weight on affected hip
Noises such as clicking coming from the implant
In some cases, recipients of Wright hips have even been diagnosed with a dangerous form of metal toxicity known as metallosis, which is a result of small shards of chromium and cobalt entering the blood after they are released from the metal implant parts.  Metallosis can be fatal, and it can also cause the following serious complications:
Cognitive impairment
Necrosis: tissue or bone death
Nerve damage
Compromised heart muscle
Interference with the thyroid gland
In some cases, the only way to alleviate the symptoms of Wright hip implant failure is to remove and replace the faulty device in a painful and costly operation.
Contact Wright Hip Lawyers
If you or someone you love has suffered pain, injury, metallosis, or hip implant revision surgery after implantation with a Wright hip, you have the right to hold Wright Medical Technology fully accountable for the physical, emotional, and financial damages you face as a result of their negligence.  Contact an experienced Wright hip lawyer today to schedule a free legal consultation.