Recently, the FDA confirmed that users of the diabetes drug canagliflozin (Invokana, Invokamet, Invokamet XR) are at a substantially increased risk for leg and foot diabetic amputation. Consequently, the agency has issued a Black Box Warning to inform users of vital clinical study findings that indicate that Invokana users are at about twice the risk for leg and foot diabetic amputation.
Arentz Law Group, P.C., is currently accepting cases in all 50 states to hold Invokana manufacturers responsible these permanently, debilitating injuries. If you, or a loved one, have had a leg, foot, or toe amputated while taking Invokana, Invokamet, or Invokamet XR, you may be eligible for substantial compensation. There are critical time limits to file a claim. Please contact us before it's too late. For a free and confidential case evaluation, please fill out the contact form below or call us at (800) 305-6000. You can also text us at (877) 656-2827.
Invokana Diabetic Amputation CANVAS Trial Findings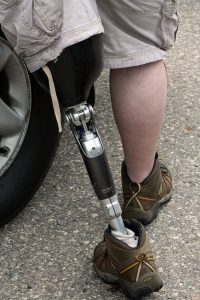 The active ingredient in Invokana, Invokamet, and Invokamet XR is canagliflozin. Canagliflozin belongs to a class of drugs known as SGLT2 inhibitors. These drugs reduce blood glucose by altering kidney function to flush excess glucose out through urination. Not only does this put inordinate pressure on the kidneys and can lead to excessive ketones in a condition known as ketoacidosis. New clinical trial findings indicate an inordinately high rate of diabetic amputation for Invokana users.
Researchers followed CANVAS trial participants for more than five years to assess Invokana's long-term effect on the heart. However, researchers also found that the risk of leg and foot diabetic amputation occurred twice as often among those taking Invokana compared to those taking a placebo. For a population already at an elevated risk for diabetic amputation, these findings were especially troubling.
Consequently, the FDA sprang into action and issued the most severe safety alert that is within the agency's power. The May 16, 2017 black box warning is the second such warning for Invokamet. Invokamet already has a black box requirement due to its other ingredient, metformin. Users of metformin are at an increased risk of lactic acidosis.
The FDA encourages patients to report new pain or tenderness, ulcers, infections, or sores.
Beyond Diabetic Amputations – Further Invokana Safety Concerns
This latest FDA warning is only the latest that the agency has issued regarding Invokana and Invokamet
May 2015 – The FDA issued a safety communication regarding the elevated risk for ketoacidosis and diabetic ketoacidosis (DKA). All reported cases required hospitalization.
September 2015 – The FDA made labeling changes to include information about bone density changes and strengthened the warning for increased bone fracture risks for users of Invokana and Invokamet. The agency indicated that bone fractures can occur as early as 12 weeks after starting the medications.
December 2015 – The FDA mandated labeling changes for all SGLT2 inhibitors to include warnings for ketoacidosis. The agency also revealed reports of urinary tract infections turning into life-threatening blood infections (urosepsis) and kidney infections (pyelonephritis). All reports indicated hospitalizations with some requiring intensive care unit admissions or dialysis to treat kidney failure.
May 2016 – The FDA issued first diabetic amputation warning based on interim study analysis indicating an increased risk.
June 2016 – The FDA strengthened warnings for kidney injury risks associated with Invokana and other SGLT2 inhibitors.
May 2017 – FDA issues black box warning about Invokana diabetic amputation risk. This warning does not extend to other SGLT2 inhibitors.